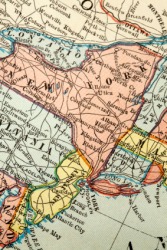 A map of New York state.
---
New York definition by Webster's New World
state of the NE U.S.: one of the 13 original states: 47,214 sq mi (122,283 sq km); pop. 18,976,000; cap. Albany: abbrev. NY or N.Y.

city & port in SE N.Y., at the mouth of the Hudson: divided into five boroughs (the Bronx, Brooklyn, Manhattan, Queens, Staten Island): 365 sq mi (946 sq km); pop. 8,008,000
Origin: after the Duke of York and Albany
Webster's New World College Dictionary Copyright © 2010 by Wiley Publishing, Inc., Cleveland, Ohio. Used by arrangement with John Wiley & Sons, Inc.
---
New York definition by American Heritage Dictionary
Abbr. NY or N.Y.
A state of the northeast United States. It was admitted as one of the original Thirteen Colonies in 1788. First explored by Samuel de Champlain and Henry Hudson, the region was claimed by the Dutch in 1624 but fell to the English in 1664-1667. The building of the Erie Canal and railroad lines in the 1820s and 1830s led to development of the western part of the state and great economic prosperity, establishing New York City as the financial center of the nation. Albany is the capital and New York City the largest city. Population: 19,300,000.
or New York City A city of southern New York on New York Bay at the mouth of the Hudson River. Founded by the Dutch as New Amsterdam, it was renamed by the English in honor of the Duke of York. It is the largest city in the country and a financial, cultural, trade, shipping, and communications center. Originally consisting only of Manhattan Island, it was rechartered in 1898 to include the five present-day boroughs of Manhattan, the Bronx, Brooklyn, Queens, and Staten Island. Population: 8,210,000.
Related Forms:
The American Heritage® Dictionary of the English Language, 4th edition Copyright © 2010 by Houghton Mifflin Harcourt Publishing Company. Published by Houghton Mifflin Harcourt Publishing Company. All rights reserved.
---
New York - Cultural Definition
State in the northeastern United States bordered by Lake Erie, Lake Ontario, and Ontario, Canada to the north and west; Vermont, Massachusetts, Connecticut, and the Atlantic Ocean to the east; and New Jersey and Pennsylvania to the south. Its capital is Albany, and its largest city is New York City.
One of the thirteen colonies.