noun
The definition of a lintel is a horizontal beam over an opening in a building that carries the weight of the wall above it.

An example of a lintel is a piece of wood that goes across the top of two windows.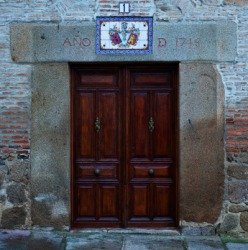 A decorative lintel.
---
lintel definition by Webster's New World
noun
the horizontal crosspiece over an opening, as a door, window, usually carrying the weight of the structure above it
Origin: Old French ; from Vulgar Latin an unverified form limitellus, for limitaris, altered (by associated, association with Classical Latin limes, genitive limitis, border, frontier ; from Classical Latin liminaris, of a threshold or lintel ; from limen: see limen
Webster's New World College Dictionary Copyright © 2010 by Wiley Publishing, Inc., Cleveland, Ohio. Used by arrangement with John Wiley & Sons, Inc.
---
lintel definition by American Heritage Dictionary
noun
A horizontal structural member, such as a beam or stone, that spans an opening, as between the uprights of a door or window or between two columns or piers.
Origin: Middle English, from Old French, probably alteration of lintier, from Vulgar Latin *līmitāris, of a threshold (meaning influenced by Latin līmen, threshold), from Latin, on a border, from līmes, līmit-, boundary.
The American Heritage® Dictionary of the English Language, 4th edition Copyright © 2010 by Houghton Mifflin Harcourt Publishing Company. Published by Houghton Mifflin Harcourt Publishing Company. All rights reserved.
---
lintel - Computer Definition