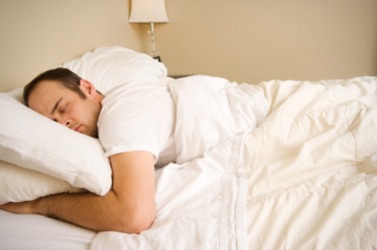 This man has lain down in his bed.
verb
Lain is defined as to have gone into a resting position.

An example of lain is to have reclined on a bed.
---
lain
---
lain
---
lain

Verb
past participle of lie (oriented in a horizontal position, situated).

He had lain there for many hours.
The book had lain on the attic floor until it was found decades later.
Verb
(third-person singular simple present lains, present participle laining, simple past and past participle lained)
(obsolete) To conceal, keep quiet about. [14th-19th c.]
Origin
From Old Norse løyna ("to conceal") (= Old English līġnan), from Proto-Germanic *laugnā ("secrecy").
See also:
láin
---