lachrymose

lach·ry·mose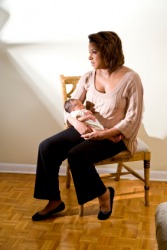 A lachrymose woman.
adjective
The definition of lachrymose is someone who cries easily or something that causes sadness.

An example of someone lachrymose is an emotional new mother.
An example of something lachrymose is a sad story where the love interest dies.
---
lachrymose
inclined to shed many tears; tearful
causing tears; sad: a lachrymose tale
Origin of lachrymose
Classical Latin
lacrimosus
from
lacrima
, tear
---
lachrymose
also lac·ri·mose
adjective
Weeping or inclined to weep; tearful.
Causing or tending to cause tears.
Origin of lachrymose
Latin
lacrimōsus
from
lacrima
tear
; see
lachrymal
.
Related Forms:
lach′ry·mos′i·ty lac′ri·mos′i·ty

noun
---
lachrymose

Adjective
(comparative more lachrymose, superlative most lachrymose)
Origin
From Latin lacrimōsus, from lacrima ("tear"), + -osus ("-ful"), from Old Latin dacruma, from Proto-Indo-European *dakru-, cognate with English tear.
---