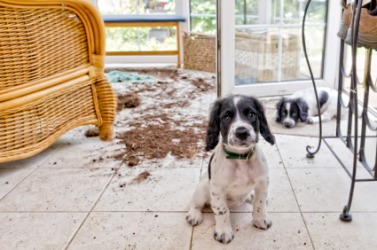 Canine kerfuffle.
noun
The definition of a kerfuffle is a British word for a state of confusion or disorder.

An example of a kerfuffle is rushing around to find important papers before a big presentation.
---
kerfuffle
Chiefly Brit., Informal
disorder; uproar; confusion
---
kerfuffle
noun
Informal
A to-do or fuss: "Among the oldest corpses from which readable DNA has been extracted is a Neanderthal man. Imagine the kerfuffle if somebody managed to clone him" ( Richard Dawkins )
Origin of kerfuffle
Scots
variant of
curfuffle
cur-
intensive pref.
(
from
Scots Gaelic
car
twist, turn about
) (
from
Old Irish
cor
a turn
; see
sker-
2
in Indo-European roots.)
fuffle
put into disorder
(
of imitative origin
)
---
kerfuffle

---