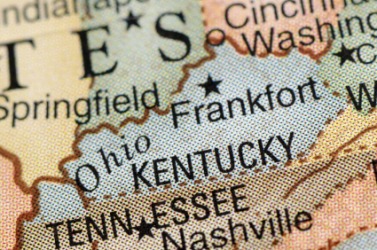 A map of the state of Kentucky.
---
Kentucky
state of the EC U.S.: admitted, 1792; 39,728 sq mi (102,896 sq km); pop. 4,042,000; cap. Frankfort: abbrev. KY or Ky

river in E Ky., flowing northwest into the Ohio: 259 mi (417 km)
Origin of Kentucky
earlier (18th circa )
Kentucke
(River), of Iroquois or Shawnee origin, originally
---
Kentucky
Abbr. KY or Ky. or Ken.
A state of the east-central United States. It was admitted as the 15th state in 1792. Daniel Boone's Transylvania Company made the first permanent settlement in the area in 1775. By the Treaty of Paris (1783) the territory became part of the United States. Frankfort is the capital and Louisville the largest city.
Related Forms:
Ken·tuck′i·an

adjective

& n.
---