prairie

prai·rie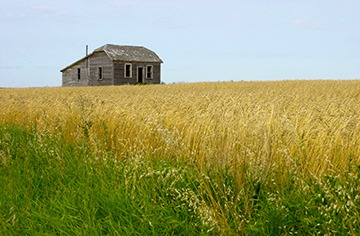 A house on the prairie.
noun
The definition of a prairie is a large open area of grassland.

Large flat open areas of grass in South Dakota or Kansas are examples of a prairie.
---
prairie
a large area of level or slightly rolling grasslands, esp. one in the Mississippi Valley
Origin of prairie
French from Old French
praerie
from
pré
, meadow ( from Classical Latin
pratum
, probably from Indo-European base an unverified form
pr?-
, to bend from source Middle Irish
r?ith
, fortification, Welsh
bedd-rod
, grave) +
-erie
, -ery
---
prairie
noun
An extensive flat or rolling area dominated by grasses, especially the grasslands that once covered much of central North America.
Origin of prairie
French
from
Old French
praierie
from
Vulgar Latin
prātāria
from
Latin
prāta
meadow
---
prairie

Noun
(plural prairies)
an extensive area of relatively flat grassland with few, if any, trees, especially in North America
Proper noun
Alternative form of Prairies.
---