kangaroo
[kaŋ′gə ro̵̅o̅′]
noun
The definition of a kangaroo is a hopping animal with a long tail from Australia famous for carrying around its young in a pouch on the mother's body.

An example of a kangaroo is the animal at the zoo that hops around on its hind legs.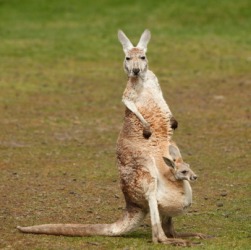 A mother kangaroo with her joey in her pouch.
---
kangaroo definition by Webster's New World
noun
pl. kangaroos or kangaroo
any of various leaping, plant-eating marsupials (family Macropodidae) native to Australia and neighboring islands, with short forelegs, strong, large hind legs, and a long, thick tail: the female has a pouch, or marsupium, in front, for her young
Origin: said (by James Cook) to be native Australian name in Queensland
Webster's New World College Dictionary Copyright © 2010 by Wiley Publishing, Inc., Cleveland, Ohio. Used by arrangement with John Wiley & Sons, Inc.
---
kangaroo definition by American Heritage Dictionary
noun
pl.
kangaroo
kangaroo
or
kan·ga·roos
Any of various herbivorous marsupials of the family Macropodidae of Australia and adjacent islands, having short forelimbs, large hind limbs adapted for leaping, and a long tapered tail.
Origin: Guugu Yimidhirr (Aboriginal language of northeast Australia) gaᶇurru.
Word History:
A widely held belief has it that the word
kangaroo
comes from an Australian Aboriginal word meaning "I don't know." This is in fact untrue. The word was first recorded in 1770 by Captain James Cook, when he landed to make repairs along the northeast coast of Australia. In 1820, one Captain Phillip K. King recorded a different word for the animal, written "mee-nuah." As a result, it was assumed that Captain Cook had been mistaken, and the myth grew up that what he had heard was a word meaning "I don't know" (presumably as the answer to a question in English that had not been understood). Recent linguistic fieldwork, however, has confirmed the existence of a word
gangurru
in the northeast Aboriginal language of Guugu Yimidhirr, referring to a species of kangaroo. What Captain King heard may have been their word
minha,
meaning "edible animal."
The American Heritage® Dictionary of the English Language, 4th edition Copyright © 2010 by Houghton Mifflin Harcourt Publishing Company. Published by Houghton Mifflin Harcourt Publishing Company. All rights reserved.
---
kangaroo - Investment & Finance Definition
Slang for an Australian stock.
kangaroo
Variant of kangaroo
noun
pl. kangaroos or kangaroo
any of various leaping, plant-eating marsupials (family Macropodidae) native to Australia and neighboring islands, with short forelegs, strong, large hind legs, and a long, thick tail: the female has a pouch, or marsupium, in front, for her young
Origin: said (by James Cook) to be native Australian name in Queensland