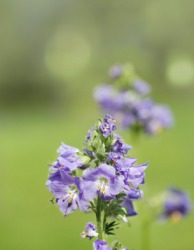 The Jacob's ladder plant.
---
Jacob's ladder
Bible

the ladder from earth to heaven that Jacob saw in a dream: Gen. 28:12
a portable ladder used on ships and having, typically, wooden rungs and rope or wire sides
any of several plants (genus Polemonium) of the phlox family, with pinnately compound leaves and small, blue, bell-shaped flowers
carrion flower (sense )
---
Jacob's ladder
noun
Nautical A rope or chain ladder with rigid rungs.
Any of various plants of the genus Polemonium, especially P. caeruleum, having bell-shaped usually blue flowers and alternate, pinnately compound leaves with numerous leaflets.
Origin of Jacob's ladder
From the ladder seen by the biblical patriarch Jacob in a dream (Genesis 28:12)
.
---
Jacob's ladder
Noun
(plural Jacob's ladders)
Origin
After the Biblical Ladder of Jacob.
---