interpret

in·ter·pret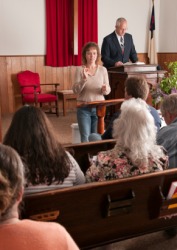 An interpreter for the deaf at a church service.
verb
Interpret is defined as to translate or explain what something means.

An example of interpret is a person using sign language to translate what someone is saying to a deaf person.
---
interpret
to explain the meaning of; make understandable: to interpret a poem
to translate (esp. oral remarks)
to have or show one's own understanding of the meaning of; construe: to interpret someone's silence as contempt
to bring out the meaning of; esp., to give one's own conception of (a work of art), as in performance or criticism
to translate (a program in a high-level language) into machine language and execute it, statement by statement: said of an interpreter program
Origin of interpret
Middle English
interpreten
from Middle French
intepréter
from Classical Latin
interpretari
from
interpres
, agent between two parties, broker, interpreter
to act as an interpreter; explain or translate
---
interpret
verb
in·ter·pret·ed, in·ter·pret·ing, in·ter·prets
verb
transitive
To explain the meaning of: The newspapers interpreted the ambassador's speech as an attempt at making peace. See Synonyms at explain.
To understand the significance of; construe: interpreted his smile to be an agreement; interpreted the open door as an invitation.
To present or conceptualize the meaning of by means of art or criticism: The actor interpreted the character with great subtlety.
To translate from one language into another: interpreted the ambassador's remarks for the assembly.
verb
intransitive
To serve as an interpreter for speakers of different languages.
Origin of interpret
Middle English
interpreten
from
Old French
interpreter
from
Latin
interpretārī
from
interpres
interpret-
negotiator, explainer
; see
per-
5
in Indo-European roots.
Related Forms:
in·ter′pret·a·bil′i·ty in·ter′pret·a·ble·ness

noun
in·ter′pret·a·ble

adjective
---
interpret

Verb
(third-person singular simple present interprets, present participle interpreting, simple past and past participle interpreted)
To explain or tell the meaning of; to expound; to translate orally into intelligible or familiar language or terms; to decipher; to define; -- applied especially to language, but also to dreams, signs, conduct, mysteries, etc.; as, to interpret the Hebrew language to an Englishman; to interpret an Indian speech.
To apprehend and represent by means of art; to show by illustrative representation; as, an actor interprets the character of Hamlet; a musician interprets a sonata; an artist interprets a landscape.
(intransitive) To act as an interpreter.
Origin
From Middle English interpreten, from Old French enterpreter, (French interpréter), from Latin interpretor ("to explain, expound, interpret"), past participle interpretatus, from interpres ("an agent, broker, explainer, interpreter, negotiator"), from inter ("between") + -pres, probably the root of pretium ("price"); -pres is probably connected with Ancient Greek φράζειν (phrazein, "to point out, show, explain, declare, speak"), from which φραδή (phrade, "understanding"), φράσις (phrasis, "speech"); see phrase.
---
interpret - Computer Definition
To run a program one line at a time. Each line of source language is translated into machine language and then executed.
---