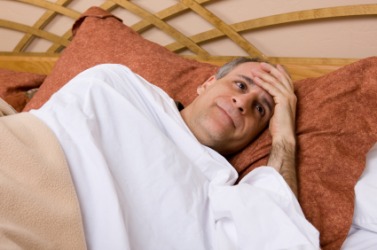 A man suffering from insomnia.
noun
Insomnia is defined as an ongoing inability to sleep or stay asleep.

When you have trouble falling asleep even though you are tired, this is an example of insomnia.
---
insomnia
abnormally prolonged inability to sleep, esp. when chronic
Origin of insomnia
Classical Latin from
insomnis
, sleepless from
in-
, in- +
somnus
, sleep: see somnolent
---
insomnia
noun
Chronic inability to fall asleep or remain asleep for an adequate length of time.
Origin of insomnia
Latin
īnsomnia
from
īnsomnis
sleepless
in-
not
; see
in-
1
.
somnus
sleep
; see
swep-
in Indo-European roots.
---
insomnia

Noun
(countable and uncountable, plural insomnias)
---
insomnia - Computer Definition
The inability to sleep. If you suffer from it, the solution is to look up all the terms under "standards" in this encyclopedia. Dozing should occur shortly. If that does not work... well, at least you will become the computer guru on your block!
---