hummingbird
[hum′iŋ bʉrd′]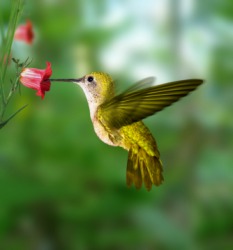 A hummingbird.
---
hummingbird
☆
noun
any of a large family (Trochilidae, order Apodiformes) of very small, brightly colored, New World birds with a long, slender bill for feeding on nectar, and narrow wings that vibrate rapidly, often with a humming sound
---
hummingbird
noun
Any of numerous birds of the family Trochilidae found throughout the Americas, usually very small in size and having brilliant iridescent plumage, a long slender bill, and wings capable of beating very rapidly, thereby enabling the bird to hover.
hummingbird
male blue-throated hummingbird
Lampornis clemenciae
---
hummingbird
Noun
(plural hummingbirds)
Any of various small American birds in the family Trochilidae that have the ability to hover.
Origin
Onomatopoeic of the humming sound made by the rapidly moving wings. See hum. See below.
---
hummingbird - Computer Definition
---