horseshoe
[hôrs′s̸ho̵̅o̅′, hôr′-]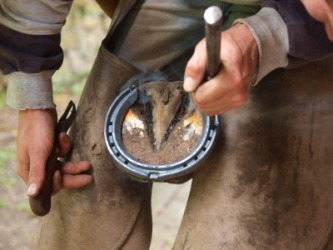 A horse gets a new horseshoe.
---
horseshoe
noun
a flat, -shaped metal plate nailed to a horse's hoof for protection
anything shaped like this
a game in which the players toss horseshoes at two facing stakes driven into the ground 40 feet apart, the object being to encircle the stake or come as close to it as possible
Origin of horseshoe
Middle English
horscho
, contr. of
horsis sho
---
horseshoe
noun
A flat U-shaped metal plate fitted and nailed to the bottom of a horse's hoof for protection.
A U-shaped object similar to a horseshoe.
horseshoes (used with a sing. verb) A game in which players toss horseshoes or horseshoe-shaped metal pieces at a stake so as to encircle it or come closer to it than the other players.
transitive verb
horse·shoed
,
horse·shoe·ing
,
horse·shoes
To fit with horseshoes.
---
horseshoe
Noun
(plural horseshoes)
A U-shaped piece of metal used to play the game horseshoes.
The U shape of a horseshoe.
(bodybuilding, slang) A well-developed set of triceps brachii muscles.
(logic) The symbol ⊃.
Verb
(third-person singular simple present horseshoes, present participle horseshoeing, simple past and past participle horseshoed)
To apply horseshoes to a horse.
Usage notes
The shorter form shoe is more commonly used.
---