honeycreeper
[hun′ē krē′pər]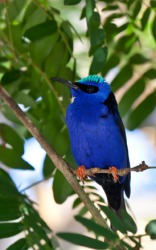 A red-legged honeycreeper.
---
honeycreeper
noun
any of a family (Drepanididae) of brightly colored, insect-eating, Hawaiian passerine birds
any of various small, slender-billed passerine birds (family Emberizidae) of tropical America that feed on nectar and fruits
---
honeycreeper
noun
Any of various small, often brightly colored tropical American birds of the family Thraupidae, having a curved bill used for sucking nectar from flowers.
Any of various finches found only in Hawaii, some of which feed on nectar and have curved bills similar to those of the mainland honeycreepers.
honeycreeper
male green honeycreeper
Chlorophanes spiza
---
honeycreeper
Noun
(plural honeycreepers)
Any of various nectar-feeding birds of the tanager family, belonging to the genera Cyanerpes, Chlorophanes, and Iridophanes.
---