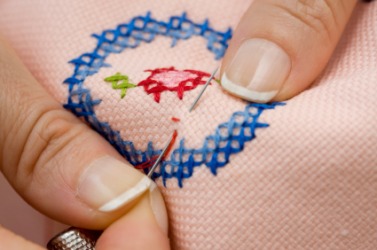 Embroidery is a handicraft.
noun
Handicraft is defined as skills done with the hands or an occupation or craft done using the hands.

An example of a handicraft is embroidery.
---
handicraft
expertness with the hands; manual skill
an occupation or art calling for skillful use of the hands, as weaving, pottery, etc.
work done or articles made by manual skills
Origin of handicraft
Middle English
handiecrafte
, altered (infl. by
handiwerk
, handiwork) from
handcrafte
from Old English
handcræft
---
handicraft
also hand·craft
noun
Skill and facility with the hands.
A craft or occupation requiring skilled use of the hands.
An object that is crafted by skilled hands.
Origin of handicraft
Middle English
handecraft
from
Old English
handcræft
hand
hand
cræft
craft
---
handicraft

Noun
(plural handicrafts)
A trade requiring skill of hand; manual occupation; handcraft. - Joseph Addison
(rare) A man who earns his living by handicraft; a handicraftsman. - John Dryden
---