noun
The definition of a hacker is a very skilled computer programmer who is able to gain access into secure computer systems, or a low skilled golfer or tennis player.

An example of a hacker is someone able to break into a banking computer system.
An example of a hacker is someone who loves to play tennis but is not very good at hitting the ball correctly.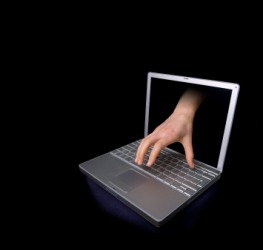 A skilled hacker can gain access to a secure computer system.
---
hacker definition by Webster's New World
noun
a person who hacks (see hack)
an unskilled golfer, tennis player, etc.

an adept or highly skilled computer enthusiast or programmer
a computer user who attempts to gain unauthorized access to files in various systems
Webster's New World College Dictionary Copyright © 2010 by Wiley Publishing, Inc., Cleveland, Ohio. Used by arrangement with John Wiley & Sons, Inc.
---
hacker definition by American Heritage Dictionary
noun
Informal
One who is proficient at using or programming a computer; a computer buff.
One who uses programming skills to gain illegal access to a computer network or file.
One who enthusiastically pursues a game or sport: a weekend tennis hacker.
Origin: Perhaps from hacker, amateurish or inept golfer or tennis player (possibly from hack1), or perhaps from hack, practical joke, clever scheme (from dialectal hack, to embarrass, confuse, play a trick on).
The American Heritage® Dictionary of the English Language, 4th edition Copyright © 2010 by Houghton Mifflin Harcourt Publishing Company. Published by Houghton Mifflin Harcourt Publishing Company. All rights reserved.
---
hacker - Computer Definition
A computer enthusiast, or computerphile, who enjoys computer technology and programming to the point of examining the code of operating systems to figure out how they work. Note: I promise that I do not make this stuff up.
Synonymous with cracker. A person who gains, or attempts to gain, unauthorized access to computers or computer networks and tamper with operating systems, application programs, and databases.
In the positive sense of the word, a hacker is an individual who enjoys learning computer system details and how to capitalize on his or her capabilities. This term is often incorrectly used for "cracker," which refers to someone who engages in unethical or illegal computer exploits.
See Also: Crackers; Computer; White Hats or Ethical Hackers or Samurai Hackers.
A person who writes programs in assembly language or in system-level languages, such as C. The term often refers to any programmer, but its true meaning is someone with a strong technical background who is "hacking away" at the bits and bytes. Hackers Have a Bad Name During the 1990s, the term "hacker" became synonymous with "cracker," which is a person who performs some form of computer sabotage. The association is understandable. In order to be an effective cracker, you had to be a good hacker, thus the terms got intertwined, and hacker won out as the "bad guy" in the popular press. However, sometimes, hackers are not worthy of the original meaning of the term. Today, a lot of malicious acts are performed by people with limited knowledge who gain unauthorized entrance into computers to steal data or perform mischief (see script kiddie). See cracker, hack, white hat hacker, samurai and Anonymous.
Computer Desktop EncyclopediaTHIS DEFINITION IS FOR PERSONAL USE ONLYAll other reproduction is strictly prohibited without permission from the publisher.© 1981-2014 The Computer Language Company Inc. All rights reserved.
---
hacker - Investment & Finance Definition
Someone who illegally gains access to a computer system or Internet site. Hackers can damage computer systems or Internet sites and cause users to experience delays.