food pyramid
food pyramid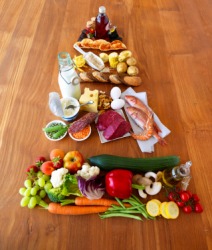 A representation of the food pyramid.
noun
The food pyramid is defined as a graphic intended to illustrate the principles of good nutrition with fruits and vegetables on the bottom representing the bulk of a healthy diet and fats and oils at the top.

An example of a food pyramid is a graphic used to illustrate good eating habits.
---
food pyramid
a pyramid-shaped representation of the food chain with many food-producing organisms, esp. green plants, at the base and decreasing numbers of food-consuming organisms, esp. animals, at each higher level
a pyramid-shaped diagram showing basic food groups and recommended servings constituting a balanced diet, typically including grains, fruits and vegetables, dairy, meat and fish, etc.
---
food pyramid
noun
A graphic representation of the structure of a food chain, depicted as a pyramid having a broad base formed by producers and tapering to a point formed by end consumers. Between successive levels, total biomass decreases as energy is lost from the system.
A diagram representing the optimal number of servings to be eaten each day from each of the basic food groups. Also called diet pyramid .
---
food-pyramid

Noun
(plural food pyramids)
A pyramid shaped diagram in layers, where each layer represents a group of animals that feeds on the layer below.

The teacher reminded us to always start the food pyramid with the plants on the bottom.
---