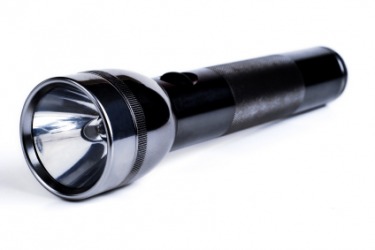 A flashlight.
---
flashlight
noun
☆ a portable electric light, usually operated by batteries
a light that shines in flashes, used for signaling, as in lighthouses, airplane beacons, etc.
a brief, dazzling light for taking photographs at night or indoors
---
flashlight
noun
A small portable lamp usually powered by batteries.
A brief brilliant flood of light from a photographic lamp.
A bright light, as of a signal lamp, that flashes at regular intervals.
---
flashlight
---