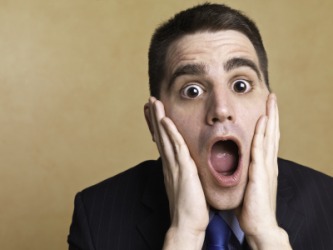 This man has just heard some eye-opening news.
noun
The definition of an eye opener is something that makes you see a situation or the world differently, that makes you come to a realization or that forces you to change your perspective.

An example of an eye opener is when you visit a foreign country and see real poverty for the first time.
---
eye-opener
a surprising piece of news, a sudden realization, etc.

Informal

an alcoholic drink, esp. one taken early in the day
---
eye opener
noun
Informal
A startling or shocking revelation.
A drink of liquor taken to stimulate, especially upon awakening.
---
eye-opener

---