epiphany

e·piph·a·ny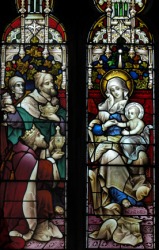 An Epiphany window; a depiction of the visit of the Magi.
noun
Epiphany is defined as a sudden and profound understanding of something.

An example of epiphany is when someone has been looking for their lost keys and suddenly has an idea of where they are.

The definition of Epiphany is a Christian celebration on January 6th that remembers when the Wise Men first saw Jesus.

An example of epiphany is the La Befana festival in Italy.

Epiphany means when a god appears to someone.

An example of epiphany is when Allah appears to the prophet Muhammad.
---
Epiphany
noun
pl.
-·nies
[e-] an appearance or manifestation of a god or other supernatural being
in many Christian churches, a yearly festival, held January 6, commemorating both the revealing of Jesus as the Christ to the Gentiles in the persons of the Magi and the baptism of Jesus

also called Twelfth Day

Origin of Epiphany

popularized by James Joyce[e-]

a moment of sudden intuitive understanding; flash of insight
a scene, experience, etc. that occasions such a moment
Origin of Epiphany
Middle English and Old French
epiphanie
from Ecclesiastical Late Latin
epiphania
from Ecclesiastical Greek
epiphaneia
, appearance from
epiphainein
, to show forth, manifest from
epi-
, upon +
phainein
, to show: see fantasy
---
epiphany
noun
pl.
e·piph·a·nies
Epiphany A Christian feast celebrating the manifestation of the divine nature of Jesus to the Gentiles as represented by the Magi, traditionally observed on January 6.
A revelatory manifestation of a divine being.
A sudden insight or intuitive understanding: "He had a painful epiphany about the absurdity of the job and quit" ( Aleksandar Hemon )
Origin of epiphany
Middle English
epiphanie
from
Old French
from
Late Latin
epiphania
from
Greek
epiphaneia
manifestation
from
epiphainesthai
to appear
epi-
forth
; see
epi-
.
phainein
phan-
to show
; see
bhā-
1
in Indo-European roots.
Related Forms:
---
epiphany

Origin
From Old French epyphanie, from Late Latin epiphania, from Ancient Greek ἐπιφάνεια (epiphaneia, "manifestation, striking appearance"), from ἐπιφαίνω (epiphainō, "I appear, display"), from ἐπί (epi, "upon") + φαίνω (phainō, "I shine, appear"). English Epiphany (of Christ) since the 14th century, generic use since the 17th century.
Noun
(plural Epiphanies)
An annual Christian feast celebrating this event
January 6th, the day of the celebration
---