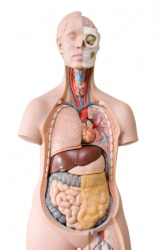 A model of a human torso revealing the entrails.
noun
Entrails are defined as the inner parts of something, or the inner organs and intestines of a person or animal.

When a wolf kills an animal and tears him open and begins to eat his inner organs and intestines, the wolf is eating an example of entrails.
---
entrails
the inner organs of humans or animals; specif., the intestines; viscera; guts
the inner parts of a thing
Origin of entrails
Middle English and Old French
entrailles
from Medieval Latin
intralia
from Classical Latin
interanea
, plural of
interaneum
, intestine from
interaneus
, internal from
inter
, between: see inter-
---
entrails
plural noun
The internal organs, especially the intestines; viscera.
Internal parts: the entrails of a car engine.
Origin of entrails
From
Middle English
entraille
from
Old French
from
Medieval Latin
intrālia
alteration of
Latin
interānea
from
neuter pl. of
interāneus
internal
from
inter
within
; see
en
in Indo-European roots.
---
entrails

Noun
(archaic) plural form of entrail
(plural only, uncountable) The internal organs of an animal, especially the intestines.
---