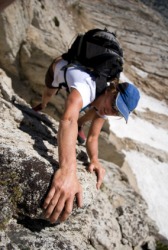 A woman endeavors to climb a mountain.
noun
Endeavour is defined as an alternate spelling of endeavor, which is defined as something you try or attempt with a lot of effort.

An example of an endeavour is when you first try to run for political office.
---
endeavour
noun
& v.
Chiefly British
---
endeavour
---