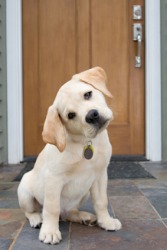 A puppy uses his cute actions to endear himself to the viewer.
verb
Endear is defined as to make someone or something well liked or beloved.

An example of endear is to say something that makes you easy to like.
---
endear
to make dear, beloved, or well liked: to endear oneself by acts of generosity
---
endear
transitive verb
en·deared, en·dear·ing, en·dears
To make beloved or very sympathetic: a couple whose kindness endeared them to friends.
---
endear

Verb
(third-person singular simple present endears, present participle endearing, simple past and past participle endeared)
---