noun
The definition of an encyclopedia is defined as a book or an electronic database with general knowledge on a range of topics.

The Encyclopedia Britannica is an example of an encyclopedia.
YourDictionary definition and usage example. Copyright © 2013 by LoveToKnow Corp.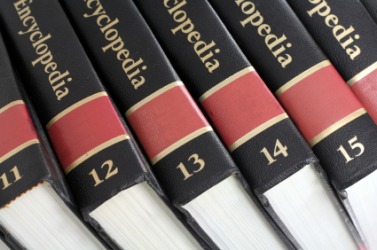 A set of encyclopedias.
Licensed from iStockPhoto
---
noun
a book or set of books giving information on all or many branches of knowledge, generally in articles alphabetically arranged
a similar work giving information in a particular field of knowledge: an encyclopedia of philosophy
Origin: Modern Latin (1508) encyclopaedia ; from Classical Greek enkyklopaideia, false reading for enkyklios paideia, instruction inch(es) the circle of the arts and sciences ; from enkyklios (en-, inch(es) plush kyklos, a circle: see cycle) inch(es) a circle, general plush paideia, education ; from paideuein, to educate, bring up a child ; from pais (gen. paidos), child: see pedo-
Webster's New World College Dictionary
Copyright © 2010 by Wiley Publishing, Inc., Cleveland, Ohio.
Used by arrangement with John Wiley & Sons, Inc.
---
noun
A comprehensive reference work containing articles on a wide range of subjects or on numerous aspects of a particular field, usually arranged alphabetically.
Origin: Medieval Latin encyclopaedia, general education course, from alteration of Greek enkuklios paideia, general education : enkuklios, circular, general; see encyclical + paideia, education (from pais, paid-, child; see pau-1 in Indo-European roots).
Word History:
The word
encyclopedia,
which to us usually means a large set of books, descends from a phrase that involved coming to grips with the contents of such books. The Greek phrase is
enkuklios paideia,
made up of
enkuklios,
"cyclical, periodic, ordinary," and
paideia,
"education," and meaning "general education." Copyists of Latin manuscripts took this phrase to be a single Greek word,
enkuklopaedia,
with the same meaning, and this spurious Greek word became the New Latin word
encyclopaedia,
coming into English with the sense "general course of instruction," first recorded in 1531. In New Latin the word was chosen as the title of a reference work covering all knowledge. The first such use in English is recorded in 1644.
The American Heritage® Dictionary of the English Language
, 4th edition Copyright © 2010 by Houghton Mifflin Harcourt Publishing Company. Published by Houghton Mifflin Harcourt Publishing Company. All rights reserved.