encyclopedia

en·cy·clo·pe·di·a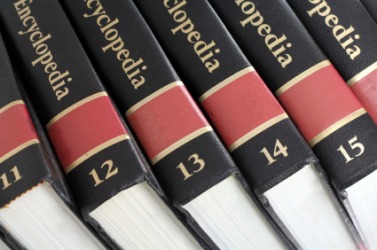 A set of encyclopedias.
noun
The definition of an encyclopedia is defined as a book or an electronic database with general knowledge on a range of topics.

The Encyclopedia Britannica is an example of an encyclopedia.
---
encyclopedia
or en·cy·clo·pae′dia
a book or set of books giving information on all or many branches of knowledge, generally in articles alphabetically arranged
a similar work giving information in a particular field of knowledge: an encyclopedia of philosophy
Origin of encyclopedia
Modern Latin (1508)
encyclopaedia
from Classical Greek
enkyklopaideia
, false reading for
enkyklios paideia
, instruction in the circle of the arts and sciences from
enkyklios
(
en-
, in +
kyklos
, a circle: see cycle) in a circle, general +
paideia
, education from
paideuein
, to educate, bring up a child from
pais
(gen.
paidos
), child: see pedo-
---
encyclopedia
noun
A comprehensive reference work containing articles on a wide range of subjects or on numerous aspects of a particular field, usually arranged alphabetically.
Origin of encyclopedia
Medieval Latin
encyclopaedia
general education course
from alteration of
Greek
enkuklios paideia
general education
enkuklios
circular, general
; see
encyclical
.
paideia
education
(
from
pais
paid-
child
; see
pau-
1
in Indo-European roots.)
---
encyclopedia

Noun
(plural encyclopedias or encyclopediae or encyclopediæ)
A comprehensive reference work (often spanning several printed volumes) with in-depth articles (usually arranged in alphabetical order, or sometimes arranged by category) on a range of subjects, sometimes general, sometimes limited to a particular field.

I only use the library for the encyclopedia, as we've got most other books here.
His life's work was a four-volume encyclopedia of aviation topics.

(dated) The circle of arts and sciences; a comprehensive summary of knowledge, or of a branch of knowledge.
Usage notes
The spelling encyclopedia is standard in American English, preferred in Canadian English, accepted in Australian and International English, and also very common in British English. It is more common than encyclopaedia, for example, in UK newspapers on Google News in 2009 by a 7:3 margin.
Origin
From Latin encyclopaedia, from Ancient Greek ἐγκύκλιος παιδεία (enkuklios paideia, "the circle of arts and sciences, curriculum"), from ἐγκύκλιος (enkuklios, "circular, rounded, round"), from κύκλος (kuklos, "circle") + παιδεία (paideia, "the rearing of a child, education"), from παιδίον (paidion, "child").
See also:
encyclopaedia
---