encroach

en·croach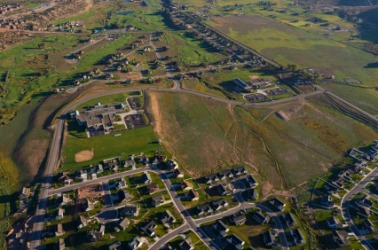 An urban area encroaching upon the rural landscape.
verb
To encroach is defined as to move into or invade someone else's space or territory.

An example of encroach is when an army moves into another country's space little by little.
---
encroach
to trespass or intrude (on or upon the rights, property, etc. of another), esp. in a gradual or sneaking way
to advance beyond the proper, original, or customary limits; make inroads (on or upon)
Origin of encroach
Middle English
encrochen
from Old French
encrochier
, to seize upon, take from
en-
, in +
croc
,
croche
, a hook: see crosier
---
encroach
intransitive verb
en·croached, en·croach·ing, en·croach·es
To take another's possessions or rights gradually or stealthily: encroach on a neighbor's land.
To advance beyond proper or former limits: desert encroaching upon grassland.
Football To commit encroachment.
Origin of encroach
Middle English
encrochen
to seize illegally
from
Old French
encrochier
to seize
en-
in
; see
en-
1
.
croc
hook
(
of Germanic origin
)
Related Forms:
---
encroach

Verb
(third-person singular simple present encroaches, present participle encroaching, simple past and past participle encroached)
(intransitive) to intrude unrightfully on someone else's rights or territory
Origin
From Old French encrochier ("seize"), from en- + croc ("hook").
---
encroach - Legal Definition
v
To unlawfully gain access to or take the property or possessions of another, particularly by stealth.
---