trespass

tres·pass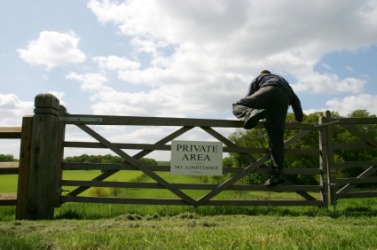 This man is trespassing.
noun
The definition of a trespass is an action that is intrusive or offensive.

An example of a trespass is breaking into someone's home.
verb
Trespass is defined as to go onto someone's property, or to cross a social boundary.

An example of to trespass is to walk onto private land to hunt.
An example of to trespass is to give a hug to someone who doesn't like to be touched by others.
---
trespass
to go beyond the limits of what is considered right or moral; do wrong; transgress
to go on another's land or property without permission or right
to intrude or encroach: to trespass on someone's time

Law

to commit a trespass
Origin of trespass
Middle English
trespassen
from Old French
trespasser
from Vulgar Latin an unverified form
transpassare,
to pass across from Classical Latin
trans-,
trans- + Vulgar Latin an unverified form
passare,
to pass from Classical Latin
passus:
see pace
the act or an instance of trespassing; specif.,
a moral offense; transgression
an encroachment or intrusion

Law

an illegal act done forcefully against another's person, rights, or property; also, legal action for damages resulting from this
Origin of trespass
ME
trespas
< OFr < the v.
---
trespass
intransitive verb
tres·passed, tres·pass·ing, tres·pass·es
Law To commit an unlawful injury to the person, property, or rights of another, with actual or implied force or violence, especially to enter onto another's land wrongfully.
To infringe on the privacy, time, or attention of another: "I must … not trespass too far on the patience of a good-natured critic" ( Henry Fielding )
To commit an offense or a sin; transgress or err.
noun
Law

a. The act of trespassing.

b. A suit brought for trespassing.

An intrusion or infringement on another.
The transgression of a moral or social law, code, or duty. See Synonyms at breach.
Origin of trespass
Middle English
trespassen
from
Old French
trespasser
tres-
over
(
from
Latin
trāns-
; see
trans-
. )
passer
to pass
; see
pass
.
Related Forms:
---
trespass

Noun
(plural trespasses)
sin [1290]

Forgive us our trespasses, as we forgive those who trespass against us "" The Lord's Prayer. Matthew ch6. v.14, 15

(law) Any of various torts involving interference to another's enjoyment of his property, especially the act of being present on another's land without lawful excuse.
Verb
(third-person singular simple present trespasses, present participle trespassing, simple past and past participle trespassed)
(intransitive) To go too far; to put someone to inconvenience by demand or importunity; to intrude.

to trespass upon the time or patience of another

(law) To enter someone else's property illegally.
Origin
Verb: From Old French trespasser ("to go across or over, transgress"), from tres- ("across, over") + passer ("to pass").
Noun: From Old French trespas ("passage; offense against the law"), from trespasser.
---
trespass - Legal Definition
n
An illegal act committed against another's person or property; especially entering upon another's land without the owner's permission.
n
In common law, a legal suit for injuries resulting from an instance of the first definition.
v
To enter upon property without permission, either actual or constructive. 
trespass on the case
A common-law precursor to today's negligence, nuisance, and business torts, it was a suit to remedy injury to person or property not resulting directly from the defendant's conduct but a later consequence of same.
trespass
quare clausem fregit. See quare clausem fregit.
trespass vi et armis
Latin
Latin. With force and arms. An immediate injury, such as an assault to another's person or property, accompanied by force or violence.
---