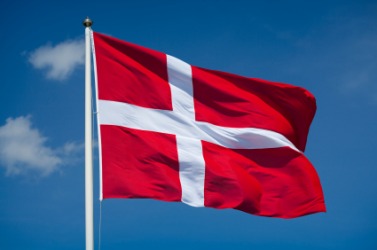 The flag of Denmark.
---
Denmark
country in Europe, occupying most of the peninsula of Jutland and several nearby islands in the North and Baltic seas: 16,631 sq mi (43,074 sq km); pop. 4,938,000; cap. Copenhagen
Origin of Denmark
Middle English
Denemarche
; from Old English
Denemearce
: see Dane and amp; mark
---
Denmark
A country of northern Europe on Jutland and adjacent islands. It was unified in the 10th century by the Viking king Harold Bluetooth (died 985), who converted the people to Christianity. Denmark controlled England briefly in the 11th century and was united with Sweden and Norway in 1397. The union with Sweden lasted until 1523, and the union with Norway until 1814. Copenhagen is the capital and the largest city.
Denmark
---
Denmark
Proper noun
A country in Western Europe consisting mainly of most of the Jutland Peninsula and a number of islands off its coast. Capital: Copenhagen (København).
---