noun
The definition of a deer is a graceful, wild, hoofed animal with long legs; the males have antlers.

An example of a deer is the animal in Disney's Bambi.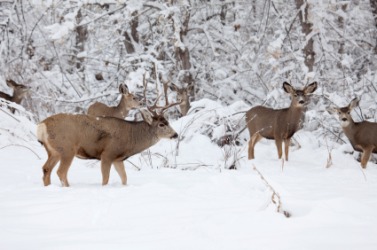 A herd of deer in the snow.
---
deer definition by Webster's New World
noun
pl. deer or deers
any of a family (Cervidae) of ruminants, including the elk, moose, and reindeer; esp., the smaller species, as the white-tailed deer and mule deer: in most species, usually only the males grow and shed bony antlers annually

Obsolete

any animal; beast
Origin: Middle English der ; from Old English deor, wild animal, akin to German tier, Old Norse dȳr ; from Indo-European base an unverified form dhewes, an unverified form dheus-, to stir up, blow, breathe (from source dusk, doze, fury): for sense development compare animal
Webster's New World College Dictionary Copyright © 2010 by Wiley Publishing, Inc., Cleveland, Ohio. Used by arrangement with John Wiley & Sons, Inc.
---
deer definition by American Heritage Dictionary
noun
pl.
deer
deer
Any of various hoofed ruminant mammals of the family Cervidae, characteristically having deciduous antlers borne chiefly by the males. The deer family also includes the elk, moose, caribou, and reindeer.
Origin: Middle English der, beast, from Old English dēor.
Word History:
In various Middle English texts one finds a fish, an ant, or a fox called a
der,
the Middle English ancestor of our word
deer.
In its Old English form
dēor,
our word referred to any animal, including members of the deer family, and continued to do so in Middle English, although it also acquired the specific sense "a deer." By the end of the Middle English period, around 1500, the general sense had all but disappeared.
Deer
is a commonly cited example of a semantic process called specialization, by which the range of a word's meaning is narrowed or restricted. When Shakespeare uses the expression "mice and rats, and such small deer" for Edgar's diet in
King Lear,
probably written in 1605, we are not sure whether
deer
has the general or the specific sense. It is interesting to note that the German word
Tier,
the cognate of English
deer,
still has the general sense of "animal."
deer
Variant of deer
noun
pl. deer or deers
any of a family (Cervidae) of ruminants, including the elk, moose, and reindeer; esp., the smaller species, as the white-tailed deer and mule deer: in most species, usually only the males grow and shed bony antlers annually

Obsolete

any animal; beast
Origin: Middle English der ; from Old English deor, wild animal, akin to German tier, Old Norse dȳr ; from Indo-European base an unverified form dhewes, an unverified form dheus-, to stir up, blow, breathe (from source dusk, doze, fury): for sense development compare animal