deer

deer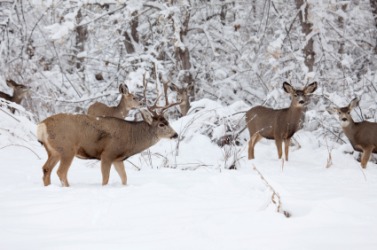 A herd of deer in the snow.
noun
The definition of a deer is a graceful, wild, hoofed animal with long legs; the males have antlers.

An example of a deer is the animal in Disney's Bambi.
---
deer
noun
pl. or

deers
any of a family (Cervidae) of ruminants, including the elk, moose, and reindeer; esp., the smaller species, as the white-tailed deer and mule deer: in most species, usually only the males grow and shed bony antlers annually

Obs.

any animal; beast
Origin of deer
Middle English
der
from Old English
deor
, wild animal, akin to German
tier
, Old Norse
d?r
from Indo-European base an unverified form
dhewes, an unverified form dheus-
, to stir up, blow, breathe (from source dusk, doze, fury): for sense development compare animal
---
deer
noun
pl.
deer
Any of various hoofed ruminant mammals of the family Cervidae, characteristically having deciduous antlers borne chiefly by the males. The deer family includes the white-tailed deer, elk, moose, and caribou.
Origin of deer
Middle English
der
beast
from
Old English
dēor
Word History:
In Middle English texts one finds a fish, an ant, or a fox called a
der,
the Middle English ancestor of our word
deer.
In its Old English form
dēor,
the word referred to any animal, including members of the deer family, and continued to do so in Middle English, although it also acquired the specific sense "a deer." By the end of the Middle English period, around 1500, the general sense had all but disappeared. In Shakespeare's works, for example, the word
deer
usually refers to the antlered animals that we call
deer
today. However, a memory of the earlier, broader meaning is preserved in the words of the character Edgar in
King Lear,
which Shakespeare wrote sometime between 1603 and 1606. After being unjustly declared an outlaw by his father, Edgar disguises himself as a lunatic and lives in misery in the countryside under the name "Poor Tom." When he later meets his father, who has been blinded and cannot recognize his son, "Tom" explains that he survives by eating toads and tadpoles and whatever else he can catch:
"But mice and rats, and such small deer / Have been Tom's food for seven long year."
Here,
such small deer
would seem to mean "other such small animals." Another trace of the earlier meaning of
deer
is probably found in
wilderness.
This word is thought to descend from an unattested Old English word
*wilddēornes,
made up of Old English
wilddēor
or
wildedēor,
"wild animal" and the noun suffix
-nes,
the equivalent of the Modern English suffix
-ness. Wilderness
is thus "wild-animal-ness," so to speak. The German word
Tier,
the cognate of Old English
dēor
and Modern English
deer,
still has the general sense of "animal."
---
deer

Noun
(plural deer or deers)
(archaic) (Esp. in phrase small deer) Any animal, especially a mammal.

But mice and rats and such small deer, have been Tom's food for seven long year. -Shakespeare, King Lear. Act III. Sc. IV.

(zoology) a ruminant mammal with antlers and hooves of the family Cervidae or one of several similar animals from related families of the order Artiodactyla

I wrecked my car after a deer ran across the road.

The meat of such an animal

Oh, I've never had deer before.
Origin
From Middle English deere, dere, der, dier, deor ("small animal, deer"), from Old English dēor, dīor ("an animal, beast, any sort of wild animal, wild beast; deer, reindeer"), from Proto-Germanic *deuzą ("animal"), from Proto-Indo-European *dʰeusóm ("living thing"), from *dʰeus ("breath"), full-grade derivative of *dʰu̯ésmi. Cognate with Scots dere, deir ("deer"), North Frisian dier ("animal, beast"), West Frisian dier ("animal, beast"), Dutch dier ("animal, beast"), German Low German Deer, Deert ("animal"), German Tier ("animal, beast"), Swedish djur ("animal, beast"), Icelandic dýr ("animal, beast"). Related also to Albanian dash ("ram"), Lithuanian daũsos ("upper air; heaven"), Lithuanian dùsti ("to sigh"), Russian душа (dušá, "breath, spirit"), Lithuanian dvėsti ("to breath, exhale"), Sanskrit ध्वंसति (dhvaṃsati, "he falls to dust"). For semantic development compare Latin animalis ("animal"), from anima ("breath, spirit").
---