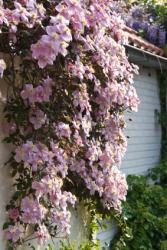 Pink flowering clematis.
---
clematis definition by Webster's New World
noun
any of a genus (Clematis) of perennial plants and woody vines of the buttercup family, with bright-colored flowers of varying size and form
Origin: Classical Latin ; from Classical Greek klēmatis, brushwood, clematis ; from klēma, vine, cutting: see clastic
Webster's New World College Dictionary Copyright © 2010 by Wiley Publishing, Inc., Cleveland, Ohio. Used by arrangement with John Wiley & Sons, Inc.
---
clematis definition by American Heritage Dictionary
noun
Any of various ornamental, mostly climbing plants of the genus Clematis, native chiefly to northern temperate regions and having showy, variously colored flowers or decorative fruit clusters.
Origin: Latin clēmatis, a creeping plant, from Greek klēmatis, from klēma, klēmat-, twig.