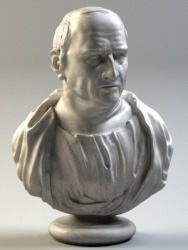 A bust of the Roman statesman Cicero.
---
Cicero
Cicero, (Marcus Tullius) 106-43 ; Rom. statesman, orator, & philosopher
city in NE Ill.: suburb of Chicago: pop. 86,000
Origin of Cicero
after (Marcus Tullius) Cicero
---
Cicero
Noun
(plural ciceros)
(typography) A European unit of measure, equivalent to 12 Didot points, or about 4.52 mm or 0.178 in.
---