noun
The definition of a cherub is a sweet looking innocent baby, or is a winged angelic figure.

Cupid is an example of a cherub.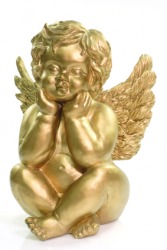 A gold cherub.
---
cherub definition by Webster's New World
noun
pl. cherubs, cherubim , cherubims
Bible

one of the winged heavenly beings that support the throne of God or act as guardian spirits: Ezek. 10

Christian Theol.

any of the second order of angels, usually ranked just below the seraphim
a representation of one of the cherubim as, in early art, a winged angel clothed in red or, later, a chubby, rosy-faced child with wings
a person, esp. a child, with a sweet, innocent face
Origin: Middle English ; from Old English ceruphin ; from Ecclesiastical Late Latin cherub ; from Classical Hebrew (language) kerūbh ; from Akkadian karūbu, gracious ; from karābu, to bless
Webster's New World College Dictionary Copyright © 2010 by Wiley Publishing, Inc., Cleveland, Ohio. Used by arrangement with John Wiley & Sons, Inc.
---
cherub definition by American Heritage Dictionary
noun
pl. cher·u·bim

a. A winged celestial being.

b. cherubim Christianity The second of the nine orders of angels in medieval angelology.

pl. cher·ubs

a. A representation of a small angel, portrayed as a child with a chubby rosy face.

b. A person, especially a child, with an innocent or chubby face.
Origin: Middle English, from Late Latin, from Hebrew kərûb; see krb in Semitic roots.
Related Forms: