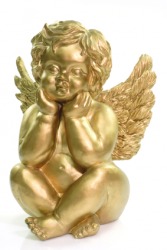 A gold cherub.
noun
The definition of a cherub is a sweet looking innocent baby, or is a winged angelic figure.

Cupid is an example of a cherub.
---
cherub
noun
pl.
Bible

one of the winged heavenly beings that support the throne of God or act as guardian spirits: Ezek. 10

Christian Theol.

any of the second order of angels, usually ranked just below the seraphim
a representation of one of the cherubim as, in early art, a winged angel clothed in red or, later, a chubby, rosy-faced child with wings
a person, esp. a child, with a sweet, innocent face
Origin of cherub
Middle English from Old English
ceruphin
from Ecclesiastical Late Latin
cherub
from Classical Hebrew (language)
ker?bh
from Akkadian
kar?bu
, gracious from
kar?bu
, to bless
---
cherub
noun
pl. cher·u·bim,

a. A winged celestial being.

b. cherubim Christianity The second of the nine orders of angels in medieval angelology.

pl. cher·ubs

a. A putto.

b. A person, especially a child, with an innocent or chubby face.
Origin of cherub
Middle English
from
Late Latin
from
Hebrew
kərûb
krb
Related Forms:
---
cherub

Noun
(plural cherubs or cherubim)
A winged creature represented over 90 times in the Bible as attending on God, later seen as the second highest order of angels, ranked above thrones and below seraphim. First mention is in Genesis 3:24
A statue or other depiction of such a being, typically in the form of a winged child.
(figuratively) A person, especially a child, seen as being particularly innocent or angelic.
Origin
From Old English cerubin, from Late Latin cherub, from Ancient Greek χερούβ (kheroub), ultimately from Hebrew כְּרוּב (kerúv)
---