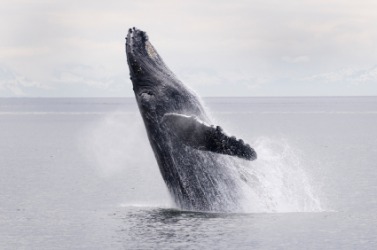 A whale is a cetacean.
---
cetacean
noun
in some systems of classification, any of an order (Cetacea) of nearly hairless, fishlike water mammals, lacking external hind limbs, but having paddlelike forelimbs, including whales, porpoises, and dolphins
Origin of cetacean
; from Modern Latin ; from Classical Latin
cetus
, large sea animal, whale ; from Classical Greek
kētos
+ -ace(a) + -an
---
cetacean
noun
Any of various marine mammals of the order Cetacea, including the whales, dolphins, and porpoises, having the general shape of a fish with forelimbs modified to form flippers, a tail with horizontal flukes, and one or two blowholes for breathing.
Origin of cetacean
From New Latin
Cētācea
,
order name
, from Latin
cētus
,
whale
; see
Cetus
.
Related Forms:
ce·ta′cean, ce·ta′ceous

adjective
---
cetacean
Adjective
(comparative more cetacean, superlative most cetacean)
Pertaining to the zoologic order Cetacea, or associated with species falling under that taxonomic hierarchy.

The poached blubber was definitely cetacean in origin, but the particular species could not be identified.
---