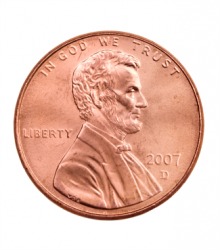 A United States penny equal to one cent.
noun
The definition of a cent is a unit of money equal to 1/100th of a dollar in the United States.

An example of a cent is one penny.
---
cent
a monetary unit of the U.S., equal to of a dollar; penny: symbol, ¢
a coin of this value, made of an alloy of copper and zinc or tin; penny

a monetary unit of various other countries, equal to of the basic unit
Origin of cent
Middle English and Old French from Classical Latin
centum
, hundred
---
cent
noun
Abbr.
ct.
A unit of currency equal to 1100 of various currencies, including the US dollar and the euro.
Origin of cent
Middle English
from
Old French
hundred
from
Latin
centum
; see
dek&mlowring;
in Indo-European roots.
Our Living Language
The plural of
cent
is
cent
in some varieties of vernacular Southern English when preceded by a numeral:
That costs eighty cent.
foot
cent.
abbreviation
centigrade
Latin centum (hundred)
century
---
cent

Noun
(plural cents or cent)
(money) A subunit of currency equal to one-hundredth of the main unit of currency in many countries. Symbol: ¢.
(informal) A small sum of money.

He blew every last cent.

(money) A coin having face value of one cent (in either of the above senses).
(music) A hundredth of a half step.
Usage notes
Due to the differing plural formats used in European languages, it is common to use the word cent as a plural throughout the Eurozone.
Noun
(law) Abbreviation of central.
Usage notes
This is the customary abbreviation of this term as used in case citations. See, e.g., The Bluebook: A Uniform System of Citation, Nineteenth Edition (2010), "Case Names and Institutional Authors in Citations", Table T6, p. 430-431.
See also:
cent
---