noun
The definition of a catapult is a military machine or other device that launches something with great force.

A machine that can hurl something a far distance with great force is an example of a catapult.
verb
To catapult is defined as to forcefully throw something.

When you forcefully throw your book across the room, this is an example of a time when you catapult the book across the room.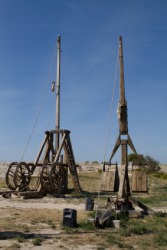 Two examples of medieval catapults.
---
catapult definition by Webster's New World
noun
an ancient military contrivance powered by either torsion or tension used for throwing or shooting stones, spears, etc.

Brit.

a slingshot
a type of launcher that provides the force to hurl an airplane, missile, etc. from a deck or ramp to provide an initial high speed
a device for ejecting a person from an airplane
Origin: Classical Latin catapulta ; from Classical Greek katapeltēs ; from kata-, down, against plush base of pallein, to toss, hurl
transitive verb
to shoot or launch from or as from a catapult; hurl
intransitive verb
to be catapulted; move quickly; leap
Webster's New World College Dictionary Copyright © 2010 by Wiley Publishing, Inc., Cleveland, Ohio. Used by arrangement with John Wiley & Sons, Inc.
---
catapult definition by American Heritage Dictionary
noun
A military machine for hurling missiles, such as large stones or spears, used in ancient and medieval times.
A mechanism for launching aircraft at a speed sufficient for flight, as from the deck of a carrier.
A slingshot.
verb
cat·a·pult·ed
,
cat·a·pult·ing
,
cat·a·pults
verb
, transitive
To hurl or launch from or as if from a catapult.
verb
, intransitive
To become catapulted; spring or bolt.
Origin: French catapulte, from Old French, from Latin catapulta, from Greek katapaltēs : kata-, cata- + pallein, to brandish, poise a weapon before hurling; see pāl- in Indo-European roots.