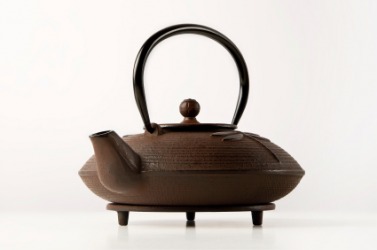 A teapot made of cast iron.
---
cast iron definition by Webster's New World
a hard, unmalleable alloy of iron made by casting: it contains a high proportion of carbon and silicon, has low tensile strength, and is very fluid and fusible when molten
adjective
made of cast iron
very hard, rigid, strong, healthy, etc.
Webster's New World College Dictionary Copyright © 2010 by Wiley Publishing, Inc., Cleveland, Ohio. Used by arrangement with John Wiley & Sons, Inc.
---
cast iron definition by American Heritage Dictionary
noun
A hard, brittle, nonmalleable iron-carbon alloy, cast into shape, containing 2 to 4.5 percent carbon, 0.5 to 3 percent silicon, and lesser amounts of sulfur, manganese, and phosphorus.
adjective
Made of cast iron.
Rigid; inflexible: a cast-iron rule.
Exceptionally strong or resistant: a cast-iron stomach.