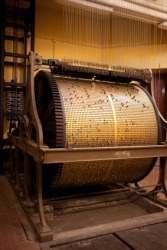 A carillon in a bell tower in Belgium.
Licensed from iStockPhoto
---
noun
a set of stationary bells, each producing a different musical tone, now usually sounded by means of a keyboard
a musical instrument that produces such tones electronically
a composition for the carillon
an organ stop producing a carillonlike sound
Origin: French chime of bells (orig. composed of four) ; from Old French carrignon ; from Late Latin quaternio: see quaternary
Webster's New World College Dictionary
Copyright © 2010 by Wiley Publishing, Inc., Cleveland, Ohio.
Used by arrangement with John Wiley & Sons, Inc.
---
noun
A stationary set of chromatically tuned bells in a tower, usually played from a keyboard.
A composition written or arranged for these bells.
intransitive verb
car·il·lonned
,
car·il·lon·ning
,
car·il·lons
To play a carillon.
Origin: French, alteration of Old French quarregnon, from Late Latin quaterniō, quaterniōn-, set of four; see quaternion.
The American Heritage® Dictionary of the English Language
, 4th edition Copyright © 2010 by Houghton Mifflin Harcourt Publishing Company. Published by Houghton Mifflin Harcourt Publishing Company. All rights reserved.