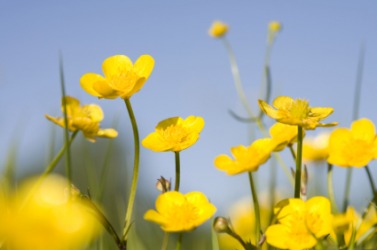 A field of yellow buttercups.
Licensed from iStockPhoto
---
adjective
designating a large, widespread family (Ranunculaceae, order Ranunculales) of dicotyledonous flowering plants, including peonies, aconites, and anemones
noun
any of a genus (Ranunculus) of normally yellow-flowered plants of the buttercup family, common in meadows and wet places
Webster's New World College Dictionary
Copyright © 2010 by Wiley Publishing, Inc., Cleveland, Ohio.
Used by arrangement with John Wiley & Sons, Inc.
---
noun
Any of numerous herbs of the genus Ranunculus, native chiefly to temperate and cold regions and having acrid juice, often toothed or lobed leaves, and usually yellow or white flowers with numerous pistils.
The American Heritage® Dictionary of the English Language
, 4th edition Copyright © 2010 by Houghton Mifflin Harcourt Publishing Company. Published by Houghton Mifflin Harcourt Publishing Company. All rights reserved.