butte
butte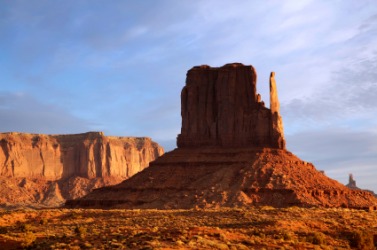 A butte in the desert.
noun
The definition of a butte is a small and steep hill that stands alone in a plain.

An example of a butte is an elevated lookout point in a plain.
---
butte
a steep, flat-topped hill surrounded by a plain, esp. in the W U.S.; a remnant of a mesa; small mesa
Origin of butte
Fr, mound ; from Old French
buter
: see butt
---
Butte
A city of southwest Montana south-southwest of Helena. It grew in the late 1800s as a mining town, especially after the discovery of copper.
butte
noun
Chiefly Western US
A hill that rises abruptly from the surrounding area and has sloping or vertical sides and a flat top.
Origin of butte
French, from Old French
butt
,
mound behind targets
; see
butt
3
.
butte
West Mitten Butte, Monument Valley Navajo Tribal Park, Arizona
---
butte
---