bungalow

bun·ga·low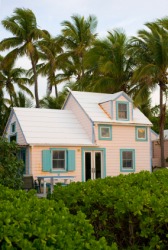 A little bungalow in the Bahamas.
noun
The definition of a bungalow is a small one story house.

A small cottage by the sea in India is an example of a bungalow.
---
bungalow
in India, a low, one-storied house, usually with a wide, sweeping porch
a small house or cottage, usually of one story and an attic
Origin of bungalow
Anglo-Indian from Gujarati
bangalo
from Hindi
b?ngl?,
thatched house, literally , Bengalese
---
bungalow
noun
A small, usually one-story house, often having a low-pitched roof, overhanging eaves, and a veranda.
A thatched or tiled one-story house in India surrounded by a wide veranda.
Origin of bungalow
Hindi
banglā
Bengali, bungalow
---
bungalow

Origin
Gujarati બંગલો baṅgalo "Bengali", referring to the Bengali-style house. Compare Hindi बंगला baṅglā and Bengali বাংলা bangla.
---