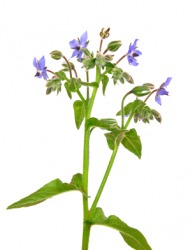 A stalk of flowering borage.
---
borage definition by Webster's New World
noun
any of a genus (Borago) of plants of the borage family, esp. an annual (B. officinalis) with brilliant blue flowers and hairy leaves used as an herb in salads, drinks, etc.
Origin: Middle English ; from Old French bourage ; from Midieval Latin borrago, burrago; said to be ; from Arabic ab 'arak, "father of sweat," from diaphoretic use of the plant
adjective
designating a family (Boraginaceae, order Lamiales) of dicotyledonous plants, including, Virginia cowslip, heliotrope, and forget-me-not
Webster's New World College Dictionary Copyright © 2010 by Wiley Publishing, Inc., Cleveland, Ohio. Used by arrangement with John Wiley & Sons, Inc.
---
borage definition by American Heritage Dictionary
noun
An annual, bristly European herb (Borago officinalis) having blue or purplish star-shaped flowers.
Origin: Middle English, from Old French bourage, from Medieval Latin borāgō, probably from Arabic bū'araq, from 'abū 'araq, source of sweat (from its use as a sudorific) : 'ab, father, source; see אb in Semitic roots + 'araq, sweat; see עrq in Semitic roots.