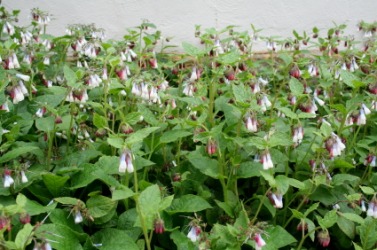 Several flowering comfry plants.
---
comfrey definition by Webster's New World
noun
pl.
comfreys
any of a genus (Symphytum) of European plants of the borage family, with rough, hairy leaves and small blue, purplish, or yellow flowers, sometimes used for forage or ornament
Origin: Middle English and amp; Old French confirie ; from Vulgar Latin an unverified form confervia, comfrey, for Classical Latin conferva, a water plant ; from confervere, to heal, grow together, origin, originally , to seethe, boil together ; from com-, with plush fervere, to boil (see fervent): from use in medicine to congeal wounds
Webster's New World College Dictionary Copyright © 2010 by Wiley Publishing, Inc., Cleveland, Ohio. Used by arrangement with John Wiley & Sons, Inc.
---
comfrey definition by American Heritage Dictionary
noun
pl.
com·freys
Any of various hairy perennial Eurasian herbs of the genus Symphytum, especially S. officinale, having variously colored flowers in coiled cymes and long used in herbal medicine. Also called healing herb.
Origin: Middle English comferi, from Old French cumfirie, from Vulgar Latin *cōnfervia, from Latin cōnferva, from cōnfervēre, to boil together : com-, com- + fervēre, to boil; see fervent.