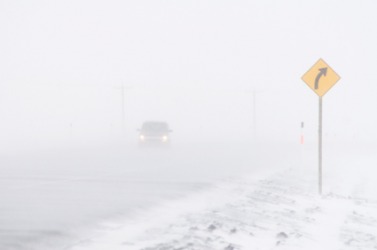 A car driving down the road is nearly hidden by the blizzard.
noun
The definition of a blizzard is an intense snowstorm, or a heavy amount of something.

An example of a blizzard is a snowstorm that traps people in their houses for days.
---
blizzard
a severe snowstorm characterized by cold temperatures and heavy drifting of snow
an overwhelming number or amount; deluge
Origin of blizzard
from uncertain or unknown; perhaps dialect, dialectal
bliz
, violent blow; uncertain or unknown; perhaps akin to German
blitz
, lightning
---
blizzard
noun
a. A violent snowstorm with winds blowing at a minimum speed of 35 miles (56 kilometers) per hour and visibility of less than one-quarter mile (400 meters) for three hours.

b. A very heavy snowstorm with high winds.

A torrent; a superabundance: a blizzard of phone calls.
Origin of blizzard
Originally a mid-19th century regional American term (Western United States), perhaps from
earlier American regional
blizzard
a stunning blow
(suggested by
blast, blow, bluster
etc.
)
or perhaps a compound of
blizz-
(
either of imitative origin, or from 18-century American regional (Virginia)
blizz
powerful rainstorm (of unknown origin)
)
-ard
---
blizzard

Noun
(plural blizzards)
(figuratively) A large amount of paperwork.
(figuratively) A large number of similar things.

a blizzard of political ads
Verb
(third-person singular simple present blizzards, present participle blizzarding, simple past and past participle blizzarded)
(impersonal, of snow) To fall in windy conditions
Origin
Unknown
Possibly from Blizzard, a surname dating back to the 1700's(?). The earliest known use of blizzard as a term was in the Estherville, Iowa, Northern Vindicator on 23 April 1870. One week later it appeared again in the same newspaper, only with the now common double-z spelling. Best evidence is that the word was coined in that area of Iowa some years prior to this use.

The blizzard surname possibly comes from the blizzard one, dating back to the 1500's(?).
The word blizzard was used (not in relation to the weather) in America in the early 1800s. It meant a "sharp blow or knock; a shot" (usually gunfire) and later shifted meaning.

Probably from the German blitzartig ("very fast, like a lightning")
---