benedictine
[ben′ə dik′tin; also, and for n.2 usually, -tēn]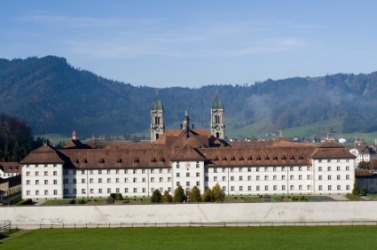 A Benedictine Abbey in Switzerland.
---
benedictine
adjective
of Saint Benedict
designating or of the monastic order based on his teachings, founded c. 529
noun
a Benedictine monk or nun
a liqueur, containing aromatic herbs and spices, orig. made by Benedictine monks in France
---
benedictine
noun
A monk, nun, or oblate belonging to the Roman Catholic order founded by Saint Benedict of Nursia.
Related Forms:
---
benedictine
Noun
(plural Benedictines)
Adjective
(not comparable)
Of or pertaining to St. Benedict of Nursia.
Of or pertaining to the Benedictine Order.
Origin
Possibly via French and/or Latin, named after the founder, Italian 6th century Saint Benedictus of Nursia
recorded in English only since the 17th century
---
benedictine
Variant of Benedictine
adjective
of Saint Benedict
designating or of the monastic order based on his teachings, founded c. 529
noun
a Benedictine monk or nun
a liqueur, containing aromatic herbs and spices, orig. made by Benedictine monks in France