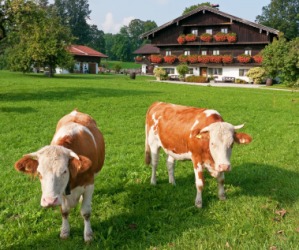 A farmhouse in Bavaria.
---
Bavaria
state of SW Germany: formerly (1918-33) a republic and, before that, a duchy, an electorate, & a kingdom with varying boundaries: 27,241 sq mi (70,554 sq km); pop. 10,903,000; cap. Munich
---
Bavaria
A region and former duchy of southern Germany. Long an influential constituent of the Holy Roman Empire, Bavaria became a kingdom upon the dissolution of the empire (1806), before being incorporated into the new German Empire (1871).
---