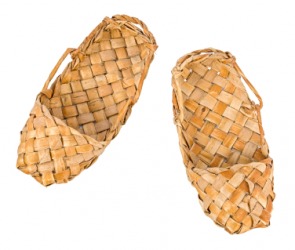 Bast shoes.
---
bast
noun
Bot.

any type of phloem
fiber obtained from phloem, used in making ropes, mats, etc.
Origin of bast
Middle English ; from Old English
bæst,
inner bark of trees; akin to German and amp; Old Norse
bast
---
bast
---
bast
Origin
From Middle English, from Old English bæst ("bast, inner bark of trees from which ropes were made"), from Proto-Germanic *bastaz ("bast, rope") (compare the Swedish bast, Dutch bast, German Bast), perhaps an alteration of Proto-Indo-European *bʰask-, *bʰasḱ- ("bundle") (compare Middle Irish basc ("necklace"), Latin fascis ("bundle"), Albanian bashkë ("tied, linked")).
---