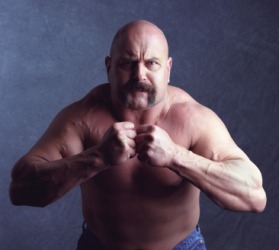 This man is badass.
adjective
Badass is defined as something or someone cool or something or someone tough, rebellious or aggressive.

When a person gets a really cool new motorcycle, it might be an example of something described as badass.
noun
The definition of a badass is someone who is tough, mean, violent or a bit aggressive.

The outlaw Jesse James is an example of a badass.
---
badass
a troublemaker, esp. one who is rough, tough, mean, or, sometimes, violent
of or characteristic of a badass
---
badass
Vulgar Slang
noun
A mean-tempered or belligerent person.
adjective
Mean; belligerent.
Origin of badass
bad
1
ass
2
---
badass

Noun
(plural badasses)
(US, slang) A mean or belligerent person; a person with extreme attitudes, behavior or appearance.

Don't mess with that guy, he's a real badass.
Adjective
(comparative more badass, superlative most badass)
(US, slang) Having extreme appearance, attitude, or behavior that is considered admirable.

That tough guy looks badass.
---