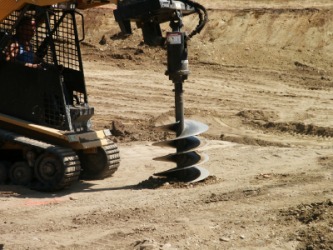 An auger is used to drill holes.
noun
The definition of an auger is a tool used for drilling either used independently in a brace or attached to a larger mechanism.

An example of an auger is the tool used to dig holes for posts.
---
auger
a narrow tool for boring holes in wood, etc., with a sharp end for cutting and spiral grooves for channeling the shavings out of the hole: it is larger than a gimlet
a similar but larger tool, as for boring holes in the earth
Origin of auger
by faulty separation of Middle English
a nauger
from Old English
nafogar
, nave drill from
nafu
, nave +
gar
, a spear: see gore
---
auger
noun
a. Any of various hand tools, typically having a threaded shank and cross handle, used for boring holes in wood or ice.

b. A drill bit.

a. A machine having a helical flange attached to a rotating shaft, used for drilling and boring or as a conveyor of loose material.

b. The rotating shaft and flange of such a machine, considered as a single unit.
transitive verb
au·gered, au·ger·ing, au·gers
To drill, bore, or convey using an auger.
Phrasal Verbs:
auger in
To descend out of control and crash. Used of aircraft and pilots.To pay close attention or direct one's energy; concentrate or focus:
Let's auger in on the highest priorities.
Origin of auger
Middle English
from
an auger
alteration of
a nauger
from
Old English
nafogār
auger
; see
nobh-
in Indo-European roots.
auger
ice auger
---
auger

Noun
(plural augers)
A snake or plumber's snake (plumbing tool).
A tool used to bore holes in the ground, e.g. for fence posts
A hollow drill used to take core samples of soil, ice, etc. for scientific study.
Verb
(third-person singular simple present augers, present participle augering, simple past and past participle augered)
to use an auger; to drill a hole using an auger.
Origin
From Middle English nauger, from Old English nafogār ("nave drill"), from Proto-Germanic *nabōgaizaz. Cognate with Dutch avegaar.
---