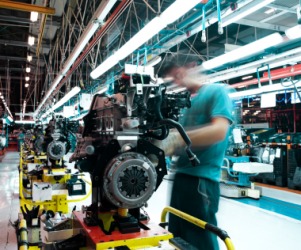 A man working on an assembly line.
---
assembly line
☆
in many factories, an arrangement whereby each worker performs a specialized operation in assembling the work as it is passed along, often on a slowly moving belt or track
---
assembly line
noun
An arrangement of workers, machines, and equipment in which the product being assembled passes consecutively from operation to operation until completed. Also called production line.
A process in which finished products are turned out in a mechanically efficient, though impersonal, manner: a university that functions as a sports assembly line.
---
assembly line
---