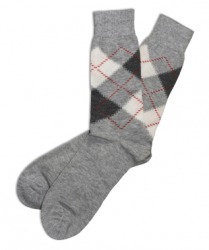 A pair of socks with argyle pattern.
---
argyle
adjective
knitted or woven in a pattern of diamond-shaped figures of different colors
Origin of argyle
after Argyll: the pattern is adapted from a clan tartan of Argyll
---
argyle
also ar·gyll
noun
A knitting pattern of varicolored, diamond-shaped areas on a solid background.
A sock knit in this pattern.
Origin of argyle
After Clan Campbell of
Argyle, Argyll, a former county of western Scotland, originally from the pattern of their tartan
.
argyle
---
argyle
Proper noun
Alternative spelling of Argyll.
---