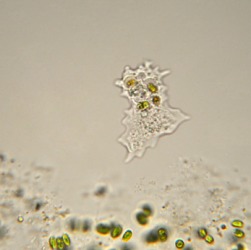 An example of an amoeba.
noun
The definition of an amoeba is a one-celled organism, common in water and soil, possessing no set cell organs, structure, or defining shape.

An example of an amoeba is an invisible organism called Entamueba histolytica which is found in tropical areas that are unclean, and causes the deadly disease dysentery.
---
amoeba
noun
pl.

-·bas

or

-·bae
a one-celled, microscopic organism belonging to any of several families of rhizopods that move and feed using pseudopodia and reproduce by fission; esp., any of a genus (Amoeba) found in soil or water or a parasitic genus (Entamoeba) found in higher animals and humans
something indefinite in shape or perpetually changing, like an amoeba
Origin of amoeba
Modern Latin from Classical Greek
amoib?
, change from
ameibein
, to change
---
amoeba
also a·me·ba
noun
pl.
a·moe·bas,
or
a·moe·bae
also
a·me·bas
or
a·me·bae
Any of various one-celled free-living or parasitic protozoans having no definite form and moving by means of pseudopods.
Origin of amoeba
New Latin
Amoeba
genus name
from
Greek
amoibē
change
from
ameibein
to change
; see
mei-
1
in Indo-European roots.
Related Forms:
amoeba
---
amoeba

Origin
From Ancient Greek ἀμοιβή (amoibē, "change"), referring to constantly changing shape of these organisms.
---